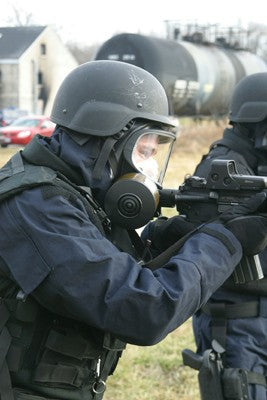 Terrorism: Roll Call Edition DVD
Terrorism: Roll Call Edition
DVD for police training has ten short segments on one DVD.
The programming is the same as the
Terrorism Response
series, formatted to suit organizations with limited training time. Ideal for daily roll calls.
Segment topics include:
Terrorist Weapons
Preparing for a Terrorist Attack
Hardening the Site
Incident Command System
Types of Chemical Weapons
Types of Biological Weapons
Types of Radiological Weapons
Response to Suicide Bombers
Anthrax
Decontamination & Protective Clothing

For international orders, please call 713-621-1100.