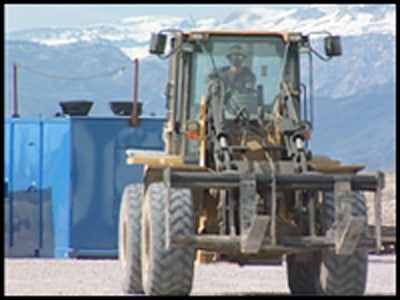 Safe Forklift Operations & Practices for the Oilfield Industry
Safe Forklift Operations & Practices for the Oilfield Industry DVD teaches best practices for common oilfield jobs, such as lifting and moving drill pipe and pallets of chemicals or mud. It also includes segments on safe fueling operations and correct procedures for avoiding or minimizing injury in case of an accident.

Forklift accidents are so common, they seem nearly routine. And, in the oilfield, these accidents are likely to be especially severe, due to oversized, heavy or awkward loads such as drill pipe; rough terrain; and severe operating conditions. That's why you need to do everything you can to ensure the safety of your operators and the whole crew.

Forklift Basics
• Safe operations
• Forklift terminology
• Rated capacity
• Center of gravity
• Stability triangle
• Equipment inspection
• Regulations
• Load charts, manuals and information sources

Hazards and Risk Factors
• Suspended and falling loads
• Instability and tipping
• Equipment use beyond capacity
• Equipment failure
• Infrequent or faulty inspections or maintenance
• Failure to plan
• Lack of information on the load
• Awkward loads
• Failure to follow regulations or procedures
• Unsafe driving or lifting
• Horseplay and unprofessional conduct
• Barriers, obstacles or hazards on route
• Power lines
• Uneven or rough terrain

Preventive Actions
• Pre-job planning or JSA
• Knowledge of safe forklift operations
• Regular equipment inspection and maintenance
• Accurate information about load
• Working within the rated capacity
• Use of safe methods for driving and lifting
• Special procedures for awkward loads
• Professional conduct
• Inspection of route and hazardavoidance
• Procedures for work near power lines/charged equipment

A Moxie Media Production.


For international orders, please call 713-621-1100.