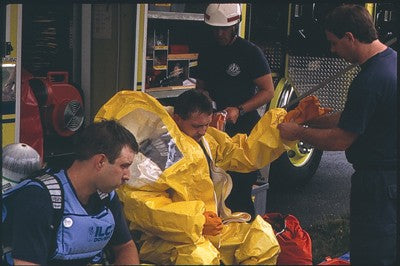 Protective Clothing & Equipment DVD
Protective Clothing and Equipment
DVD is Part 4
of the
Hazardous Materials: Managing the Incident Series. Available separately or as a part of the series.
This training video covers the different types of protective clothing and equipment, as well as the advantages and disadvantages of each type.
Topics covered include:
The difference between structural firefighting clothing and chemical protective clothing
Respiratory protection, including self-contained breathing apparatus (SCBA) and SAR (supplied air respirators)
NFPA standards for protective clothing
EPA levels of protection
Degradation, penetration, and permeation
For international orders, please call 713-621-1100.