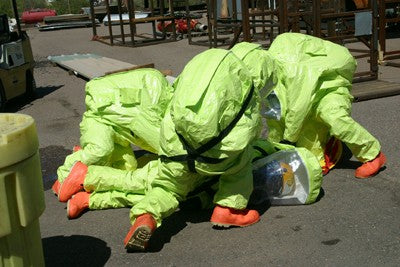 HEAT: Working in Hot Environments DVD
HEAT: Working in Hot Environments DVD training video is for personnel who wear protective clothing or work in hot environments. They learn how to avoid heat stroke, heat stress, and other heat illnesses.

 It is particularly valuable for emergency responder training who work in protective clothing. Every year in the U.S. there are at least 3,000 heat-related illnesses and occupational injuries involving days lost from work. 

Topics covered include:
Levels of heat illness
Occupations where workers may be at risk
How heat is transferred and builds up in the human body
Symptoms of dehydration, heat stress, heat exhaustion, and heat stroke
Specific heat issues relating to chemical protective clothing
Medical monitoring before, during, and after operating in protective clothing
First aid for victims of heat injuries
Leader's Guide included.

For international orders, please call 713-621-1100.