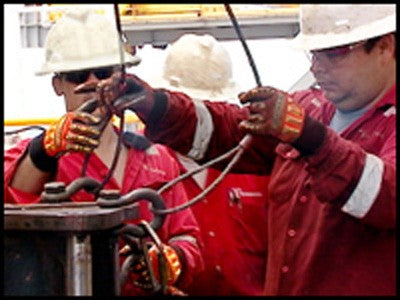 Hand Safety & Injury Prevention For The Oilfield Industry
When working with hazardous equipment, tools or chemicals, hand injuries are a constant threat. And, it takes only one accident to leave a valued worker on the sidelines, facing a lifetime of pain and regret.

Hand Safety and Injury Prevention for the Oilfield Industries DVD was filmed at oilfield installations (both land and offshore) and showcases the latest hand safety practices from industry leaders. It focuses on how to maintain safety while performing oilfield jobs ranging from using hand and power tools, to crane rigging and working with specialized equipment such as tongs.

Topics covered include:

Hand Safety Hazards:
• Pinch points
• Rigging
• Tools and equipment
• Chemicals
• Heat
• Electrical hazards
• Repetitive motion
• Inattention or loss of focus

Preventive Actions:
• JSA and similar measures
• Work glove selection and care
• Proper hand placement
• Tool and equipment safety
• Chemical and electrical safety
• Stretching
• Rigging safety including "hands-free" methods
• Maintaining focus and staying alert

A Moxie Media Production.


For international orders, please call 713-621-1100.