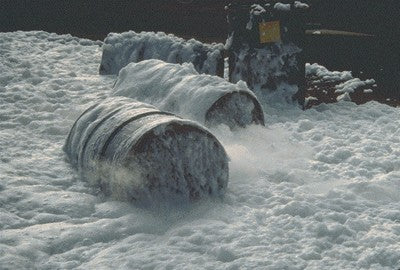 Foam DVD safety training video has been awarded the prestigious Telly Award, as well as the Golden Eagle award from the Council of International Non-Theatrical Events (CINE). 
This DVD program teaches emergency responders what they need to know to select, prepare, generate and apply foam to a Class A or B fire or hazardous materials spill.

Topics covered include:

Studies all of the basic concentrates currently on the market, including DVD training personnel in use of hazmat foam. Studies high expansion, fluoroprotein, AFFF, FFFP, alcohol resistant and Class A foams. 
Discusses the special properties and drawbacks of each which will make them appropriate or inappropriate for particular situations.
Emphasizes the value of pre-incident planning, and tells how to analyze a site to determine what type and quantity of foam concentrates to keep available
How to prepare foam, including proportioning to achieve the right mix of water and concentrate
Close attention to polar solvents, particularly ethanol and the use of alcohol resistant foam concentrates and foam concentrates that can be used on polar solvents and hydrocarbons
Fighting tank fires
NFPA foam application specifications
Safety equipment, including skin & eye protection
Rules of compatibility
Protecting exposures
Protecting the integrity of the foam blanket
Eliminating the source of the leak
Up-to-date portrayal of equipment used in foam preparation & delivery

For international orders, please call 713-621-1100.