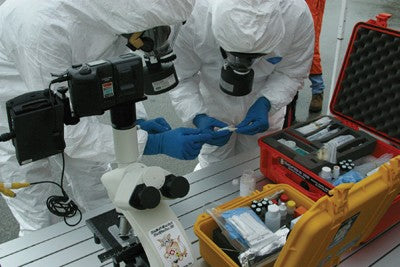 Detecting Weapons of Mass Destruction DVD
Detecting Weapons of Mass Destruction DVD training video is for special operations units such as hazmat teams, bomb squads, tactical units, National Guard troops, and other emergency responders who may be called upon to carry out monitoring and sampling activities at a suspected WMD incident in order to help identify the weapons used.It focuses on equipment used as part of initial emergency response operations.

Topics covered include:

Dosimeters
Radiation pagers
Contamination survey instruments
Spectrometry
M8/M9 paper
High-speed chromotography
Hazmat Smart Strips
Infrared technology
Biological sampling kits
The complexities of detecting for weapons of mass destruction
Detection priorities
Technologies used to monitor for radiation, explosives, chemical weapons and biological weapons
The advantages and limitations of each type of technology is discussed
How to avoid false positives
How to document findings
Instructor's Guide included.
For international orders, please call 713-621-1100.