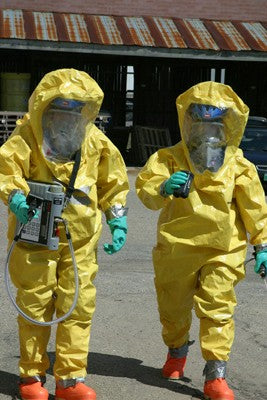 Chemical Protective Clothing DVD
Chemical Protective Clothing DVD is an objective, in-depth training program designed for emergency responders and others who may be required to use or select chemical protective clothing.

Topics covered include:
Vapor protective suits, liquid splash-protective suits, and support function protective garments
NFPA and EPA standards
Key components of a chemical protective clothing ensemble
Suit selection
Permeation, penetration and degradation and detecting signs of suit failure
Donning and doffing
Decontamination, medical monitoring, and heat injuries
Inspecting, testing, storage and maintenance of garments
Includes Leader's Guide.
For international orders, please call 713-621-1100.



NOTE: The price in the shopping cart reflects special offer. Regular price when discount ends is $295.00.