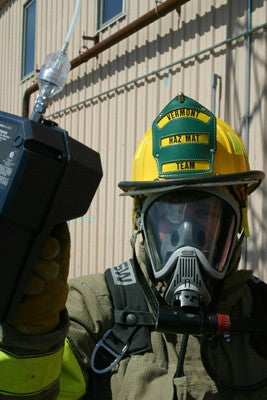 Breathing Apparatus
DVD video training program provides objective, in-depth information about SCBA, SAR and air-purifying respirators.
Respiratory protection is defined as equipment used to prevent exposure to gases, vapors and particulates by inhalation. The two major categories of breathing apparatus are air purifying respirators (APRs), which use ambient air purified through a filtering element, and atmosphere supplying respirators, which have a separate air source. APRs are commonly used during normal workplace operations but are not suitable for emergency response situations.
Atmosphere supplying respirators fall into three categories: Self Contained Breathing Apparatus (SCBA), Supplied Air Respirators (SARs), and combination SCBA/SAR. Of these, SCBA provides the highest available level of protection against airborne contaminants and oxygen deficiency. The technology behind SCBA and other respiratory protection is sophisticated, leading to greater protection for the user but also requiring intensive training in the proper selection, use and maintenance.
Breathing Apparatus
discusses the different types of breathing apparatus and the components of each, as well as safety features, capabilities and limitations. The operation of the equipment, proper techniques for its use, inspection procedures and emergency operations are demonstrated. Factors which make specific equipment appropriate or inappropriate for particular tasks are explained.
The film teaches about hazardous atmospheres and respiratory hazards. It stresses the need for training in the use of equipment in simulated emergency conditions before the user is exposed to a true emergency.
Topics covered include:
Donning and doffing the various types of breathing apparatus
Cylinder change-out and recharging
Fit testing
Open circuit versus closed circuit SCBA
The importance of physical conditioning

Maintenance of equipment
Special problems of hazmat incidents
Actual demonstrations of how components fit together and operate

The program also includes a 60-page Leaders Guide which outlines a comprehensive six-hour training program in the selection, use and care of breathing apparatus. Objectives of the program, field and classroom exercises, and pre- and post-tests are included, as well as a copy of the script for the Leaders' reference.
This six-hour course will help meet the training requirements of OSHA 29 CFR 1910.120, Standard for Hazardous Waste Operations and Emergency Response; OSHA 29 CFR 1910.134, Standard for Respiratory Protection; as well as ANSI and NFPA training requirements.

For international orders, please call 713-621-1100.