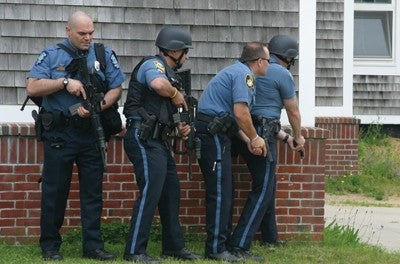 Active Shooter: Rapid Response DVD
Active Shooter: Rapid Response
is a safety training DVD program for school administration, law enforcement, emergency management and others who may be involved in the response to a mass shooting. In such incidents, normal safety protocols may be suspended as officers quickly respond without waiting for support teams.
This compelling program
shows how preparedness for and response to these fast-breaking and dangerous events is a joint effort between police, fire, EMS, community, and facility emergency management. The role of trained and equipped tactical medics is depicted as well as the more traditional activities of EMS during mass casualty incidents: scoop and run rescue, triage, treatment, and transport. In addition to providing emergency medical service, firefighters are also depicted assisting law enforcement in forcible entry, firefighting, and managing building sprinkler systems.
Active Shooter: Rapid Response
combines realistic scenarios and footage of actual incidents
and is Emergency Film Group's best-selling program.
 Topics covered include:
Actions for the first arriving officer
Perimeter control
Equipment
Strategies & tactics
Dealing with the shooter
Victims
The EOC
Support teams
Terminating the incident

A bonus 5-minute special segment explores approach, entry and search tactics.
Included in the package is a Resource CD-ROM with PowerPoint, Post-Seminar Quiz and additional resources that will help instructors with seminar presentations.

 
"A comprehensive, well-done, accurate training aid that is neither frivolously violent nor boring. I recommend you take a look at Active Shooter: Rapid Response." - ILEETA Review


For international orders, please call 713-621-1100.

Copyright 2009