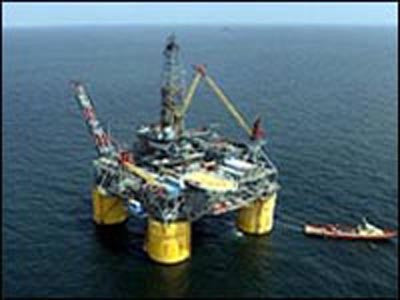 Orientation and Safety for the Offshore Oil Industry
The Offshore Oil Industry has come under some drastic changes in the last decade; greater safety standards, advanced drilling technology, shifting global production sites, and a heightened sense of environmental protection.
Employees who are new to the offshore oil industry or who are returning from other industrial sectors need to keep abreast of the latest developments.
Orientation and Safety for the Offshore Oil Industry
DVD is
a 43-minute training manual of what is the most in-depth look to date of this vibrant marine industry. From the North Sea, to the Gulf of Mexico, to the Arctic Seas, to the coasts of Africa, South America and the Far East,  this program explores the the ever changing role of oil and service personnel into the year 2000 and beyond.
Topics covered include:
Safety
Personal safety equipment, personnel transfers (helicopters, baskets, swing ropes,) abandonment procedures (life jackets, boats, rafts, station bill), safety meetings, fire and chemical hazards, blow outs.
Orientation
Personnel titles and duties, length of tours, Contraband policies, identification of rig components, housing accommodations, abundance of good food, support services (supply boats, cranes, laundry, wireline, and casing crews), and reporting of injuries or spills.
Oil Economics
Oil futures pricing and trading, OPEC, Oil and Gas measurement, governmental regulations, European Economic Community, feasibility of drilling environmental issues, types of crude and refined products.
New Drilling Technology
Top drive, subs systems, ROV's, TLP's Semis, MODU's automated pipe handling, 3-D computer seismic modeling, logging while drilling, mud systems, acoustical positioning and horizontal drilling.
Production
LACT unit, sour oil and gas, separators, pipelines, wireline and workovers, lightering, BOPS, Christmas tree, tankers, and refining.
History
Geological formations, origins of offshore drilling, continental shelf, geographical production regions, evolution of drilling technology, oil, and gas as energy sources, and future of underwater drilling and completions.
Also available in Portuguese and Spanish.
A Moxie Media production.

For international orders, please call 713-621-1100.