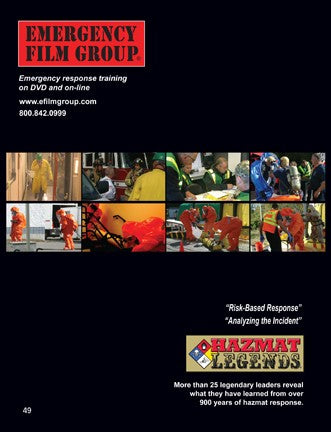 Emergency Film Group's Complete DVD Library
Save over $7,000! This package of training videos provides all-hazards training from the leader in the field of DVD-based emergency response training. Your package includes one DVD copy of every EFG program on our website. Also included are all accompanying Guides, Instructor CD-ROMs, and other materials.

This entire package includes:

92 DVDs
18 accompanying Leader's Guides
25 Resource CD-ROMs intended to assist an instructor in setting up a training seminar
Please call 866.427.2467 for a complete list of products included with this offer.
These programs address and provide Awareness, Operations, Technician, Command and Specialist training in the following disciplines:
Hazardous Materials, following OSHA and NFPA Hazwoper guidelines for competency training
Terrorism Response
Incident Command/NIMS
Emergency Management
Security
EMS
Rescue
***Programs meet all hazards and CBRNE focus recommended for Homeland Security grants.***
Note: all items are also available separately


For international orders, please call 713-621-1100.