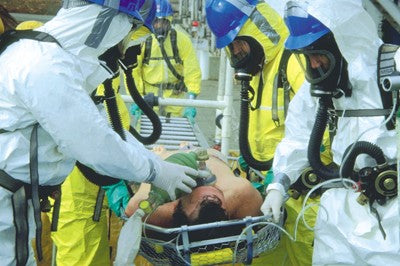 Medical Operations at Hazmat Incidents DVD
Medical Operations at Hazmat Incidents
DVD training video helps organizations meet the requirements of
NFPA 473
, and
Professional Competencies of EMS Personnel Responding to Hazardous Materials Incidents.

EMTs and paramedics will learn how to work with first responders if needed at a hazmat incident.
 Topics covered include:
How to protect yourself and others from exposure
Where to get information on chemical toxicity
Protocol for the medical monitoring of entry teams
Dealing with contaminated patients
Limitations to medical care in the Hot Zone
Included with purchase is Managing Hazardous Materials Incidents: Medical Management Guidelines for Acute Chemical Exposures, prepared by the Agency for Toxic Substances and Disease Registry. 
Also included is an Instructor's CD-ROM to help structure a training seminar.
For international orders, please call 713-621-1100.