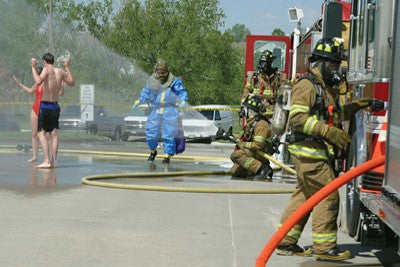 Mass Decon
DVD training video on mass casualty decontamination takes the viewer up close as emergency personnel decontaminate victims of terrorism agents.
Topics covered include:
Identifying the agents involved
Setting up the decon area
Preparing decon solutions
One & two engine configurations, ladder configuration, and bridge configurations
Dealing with modesty and privacy issues
Cold weather decon and hypothermia
Managing non-ambulatory victims
Monitoring for radiation
Protecting medical facilities and staff from cross contamination
Includes Leader's Guide.


For international orders, please call 713-621-1100.