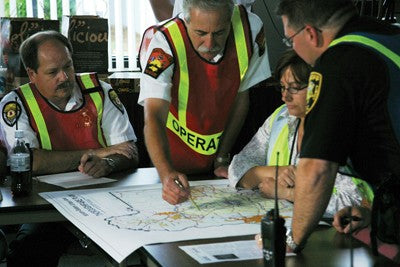 Emergency Management Package I
The
Emergency Management Package I
provides helpful training for emergency response personnel: incident commanders, police officers, emergency management personnel, National Guard troops, hazmat teams, firefighters, security personnel, dispatchers, emergency operations center personnel and others who might have emergency management responsibilities.
The three programs in this package are:
NIMS: Introduction to the National Incident Management System
provides NIMS video training describing response protocols for hazardous materials, terrorist and other major incidents. Focus is on the Incident Command System.
Topics covered include:
The structure of ICS
The advantages of using a standardized incident management system during complex response situations
How Command is established and transferred
When and how Unified Command is used
The roles and responsibilities of the Incident Commander's staff
The four sections that may be activated at complex incidents: Operations, Planning, Logistics, and Administration & Finance
The role of Multi-Agency Coordination Systems (MACS) and emergency operations centers
Managing incident-related intelligence

Model Procedures Guide Included with DVD
 Also includes Leader's Guide.

Protective Actions: Evacuation/Shelter in Place teaches organizations how to organize and carry out an evacuation plan.

Topics covered include:
Issues to consider when deciding whether to implement protective actions
Deciding between evacuation and shelter in place
Steps to take for both procedures
Covers both incidents that are anticipated and those that come with no warning
Covers both pre-emergency and post-emergency evacuations
Determining the evacuation area
Alerting the public
Determining evacuation routes and methods
Re-entry of evacuees
Precautions to be taken to keep people safe indoors
Covers sheltering in residences, commercial buildings, schools, hospitals, and vehicles
Termination procedures
Includes a CD-ROM with PowerPoint presentation.
Hazmat/WMD Awareness
provides OSHA Awareness training for personnel who might be first on the scene of an emergency involving hazardous materials or terrorism.
Topics covered include:
How hazardous materials can harm people and the environment

Label and placarding systems

Using the Emergency Response Guidebook, MSDS and other hazard identification systems

The four categories of Weapons of Mass Destruction (WMD) and the associated risks

Addresses both fixed facility and transportation incidents
The included Leader's Guide outlines a 4-hour (or longer) training seminar, including pre- and post-seminar tests, ideas for activities, a copy of the script and reference materials.
 For international orders, please call 713-621-1100.