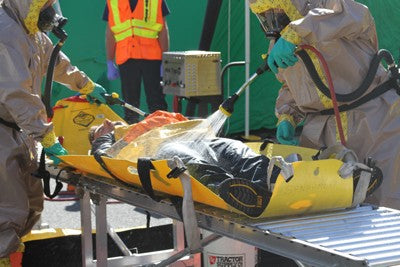 Risk-Based Response

DVD

, presented by Hazmat Legends, examines key issues in the
latest edition of NFPA 472 - Standard for Competence of Responders to Hazardous Materials/Weapons of Mass Destruction Incidents.


This program covers
important issues related to safe hazmat response - whether you have new recruits to train or want to provide a stimulating refresher for your team.


The Hazmat Legend Series showcases twenty-seven of the nation's leading hazmat responders, with more 966 years of boots on the ground experience, who provide an inside view of

NFPA 472

. As influential instructors, widely read authors and hazmat responders, they have seen it all and now in this exciting and comprehensive program they
reveal important lessons they've learned that can help improve your team's response actions.
Topics covered in this program include:

Core competencies, mission specific competencies and technical level competencies

Explains why weapons of mass destruction (WMD) have been added to hazardous material lists

Describes how to develop a risk-based response program for hazmat incidents

How safety is managed at an incident
Included in the package is a Resource CD-ROM with PowerPoint, testing materials, a risk management case study and additional resources that will help instructors with seminar presentations.

For international orders, please call 713-621-1100.
Check out all the Hazmat Legend Series film clips!
Risk-Based Response includes materials from in-depth interviews with 17 legendary hazmat responders who are listed here in their order of appearance in the program. With a combined 657 years of experience in hazmat response, they have been involved in every kind of hazmat incident, including the Crescent City Disaster, the 1993 World Trade Center bombing, the 9/11 attacks on the World Trade Center and the Pentagon, Hurricane Katrina, Superstorm Sandy, Iraq, Afghanistan, plane crashes,pipeline ruptures, bombings, BLEVEs and drug labs. They are well known nationally and internationally as authors, lecturers, teachers, and standards makers.