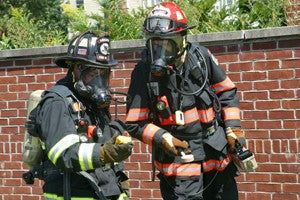 Radiation Monitoring
DVD training video teaches emergency personnel in mission specific Operations Level competencies regarding monitoring for radiation at WMD events as well as natural disasters and industrial accidents. This training video is designed for emergency personnel, including law enforcement, hazmat teams, firefighters, emergency management and others who might become involved in monitoring for radiation.
Topics covered include:
Follows the guidelines of ASTM-2601, Standard Practice for Radiological Emergency Response
Examines incidents resulting from accidents and natural disasters as well as terrorism
Portrays emergency personnel using radiation detectors and interpreting results
Studies the selection and use of personal protective equipment
Covers Improvised Nuclear Devices, Radiological Dispersion Devices and Radiological Exposure Devices
The package includes an Instructor's CD-ROM that examines the Inverse Square Rule and other resources to help present a training seminar. 
For international orders, please call 713-621-1100.