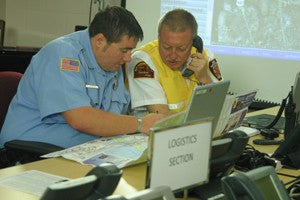 NIMS for EOCs
DVD video training describes the function of the Emergency Operations Center and how it is staffed, organized and activated. Designed for federal, state, tribal and local emergency management personnel as well as private industry and disaster response organization personnel.
The program also demonstrates how the EOC supports Incident Command during a response. 
Topics covered include:
How the EOC is staffed, organized & activated
Key roles in ICS and corresponding roles for the EOC
Elements of NIMS
The five types of incidents
Readiness levels
Planning meetings
Also included is a Model Procedures Guide on CD-ROM with customizable PowerPoint presentation, post-seminar quiz, references and other documents to help present a training seminar.
For international orders, please call 713-621-1100.