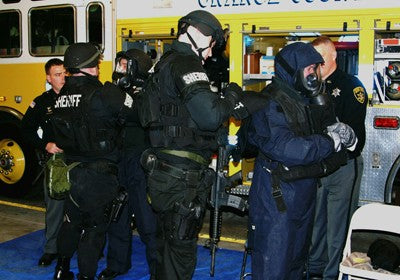 Hazmat/WMD Self-Protection for Law Enforcement DVD
ON SALE!

Hazmat/WMD Self-Protection for Law Enforcement
DVD training video studies law enforcement's use of personal protective clothing and personal protective equipment, including respiratory protection and chemical protective clothing. The package includes a DVD plus separate Instructor's CD-Rom.


Note: Click here for the Fire Department version of this program.
Topics covered include:
Why protective equipment is necessary
Features and limitations of different types of respiratory protection
Respiratory protection used for WMD incidents
EPA levels of protective ensembles
Standards for chemical protective clothing
Donning and doffing PPE
Inspecting and storing PPE
Medical considerations when using PPE
Avoiding heat stress
Includes Instructor's CD-ROM with PowerPoint and other resources to help structure a training seminar.



For international orders, please call 713-621-1100.


NOTE: The price in the shopping cart reflects special offer. Regular price when discount ends is $295.00.