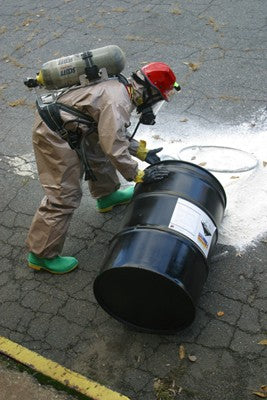 The
HazChem Series
of training videos consists of
eleven
DVDs
, an
Instructor's Guide
and
six CD-ROMs
. Each training video introduces fundamental lessons about safe handling and emergency response procedures for a specific hazardous chemical or class of chemicals.
Each includes footage of actual incidents combined with action-packed realistic training scenarios to get students up close as firefighters, police, EMTs and industry teams carry out procedures to mitigate incidents involving hazardous products.
Topics covered include:
Hazardous properties of the product
Occupancies where they are found
Proper protective clothing
Decontamination procedures
Proper response to leak, spills or fires
Emergency medical treatment
Titles are available separately or as a package deal at a substantial savings. Valuable for Hazwoper and Right to Know training. The eleven films currently available are:
For international orders, please call 713-621-1100.