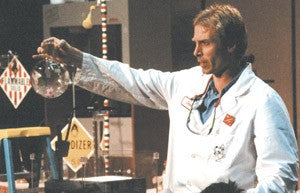 Fun With Chemistry DVD offers three hours of non-stop live demonstrations vividly portraying the hazards of chemical reactions. This safety training video is excellent instruction for anyone involved in emergency response or who works with chemicals. Designed for emergency responders and workers who handle chemicals. Filmed on location before a live audience at the Continuing Challenge Hazmat Conference in Sacramento, CA.
Instructive and entertaining
Searchable by chapter points
Provides an excellent basic understanding of chemistry that is helpful for anyone who may need to consider the hazards of chemicals during the course of their job
Experiments cover all nine of the DOT hazard classes, demonstrating how chemicals within these classes, either by themselves or in reaction with other chemicals, can harm people or the environment
Concepts such as pH, BLEVE and flammability range are visually demonstrated
Experiments are demonstrated by Dan Keenan and Maria Duazo, the Continuing Challenge Instructors of the Year
For international orders, please call 713-621-1100.