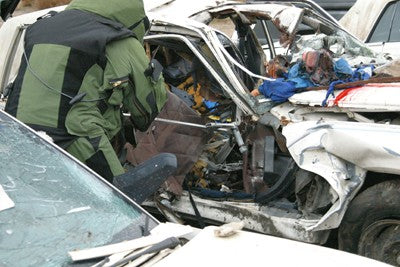 Suicide Bomber
DVD training video provides important training and information for bomb squads, police, firefighters, EMS, security and military personnel who may respond to an attempted or actual suicide bombing. Instructs emergency personnel on how to plan for, prevent, recognize and respond to suicide terrorism. This video is Part 2 of the
IED Training Package.
Topics covered include:
Trends in suicide terrorism
Intelligence gathering and cooperation
How terrorists plan an attack
Improving security measures
Clues to the presence of a human or vehicle bomb
Covers both pre- and post-detonation responses
Taking the warning call
Mobilizing local & federal agencies
Evacuation
Identifying WMD agents
Checking for secondary devices
Use of deadly force
Search, rescue and triage.
Includes Resource CD-ROM.
EFG has achieved a new pinnacle of success with the announcement that Suicide Bomber has received a remarkable 5 awards for filmmaking excellence and training effectiveness.
The five awards include:
A prestigious Cine Golden Eagle for excellence in film production, signifying the program's selection to represent the U.S. in overseas film festivals;
A Telly Award, honoring excellence in non-broadcast film productions;
A Gold Aurora Award, an international competition judged by panels of working film and video professionals that recognizes excellence in film and video;
A Davey Award from the International Academy of the Visual Arts, dedicated to embracing progress in traditional and interactive media;
A World Medal from the New York Festivals, which honors creativity and effectiveness in global communications through film.
For international orders, please call 713-621-1100.