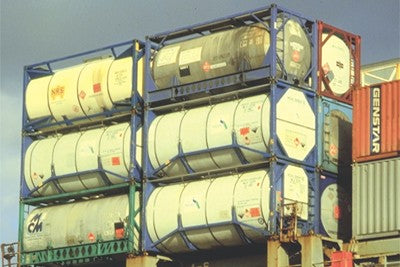 Intermodal Containers DVD
Intermodal Containers
DVD training video describes containers which can be used interchangeably in different modes of transportation. Examples of intermodal containers include both tank and box containers. More than four million such containers are in use around the world.
Problems may arise when hazardous materials are packed - whether properly or improperly - inside intermodal containers and external markings are not present to warn workers or emergency responders of the contents.
This DVD provides information for emergency responders and industry personnel who work with or who may respond to emergencies involving intermodal containers.
Topics covered include:
How intermodal containers are constructed and used
How accidents happen
Standards for IMO Type 1, Type 2, Type 5 and Type 7 containers
Features of specialized containers
Safety procedures to minimize accidents during loading and unloading operations
Procedures for safe response to emergencies involving both tank and box containers
Identifying hazardous materials
Using protective clothing
Isolating the accident scene
Managing leaks and fires

For international orders, please call 713-621-1100.

NOTE: The price in the shopping cart reflects special offer. Regular price when discount ends is $295.00.