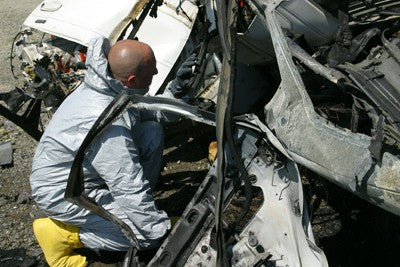 IEDs & VBIEDs
DVD is a training video for police and other emergency personnel about preparing for and responding to Improvised Explosive Devices. This video is Part 1 of the
IED Training Package.
Informative and exciting to watch, this program was produced after recent history showed that IEDs (improvised explosive devices) and VBIEDs (vehicle-borne improvised explosive devices) are often the terrorists' weapon of choice. It is likely that these attacks would be carried out in non-battlefield environments.
First responders will be a community's first line of defense if these deadly weapons are involved in an incident. This program,
IEDs & VBIEDs,
will raise the awareness of emergency personnel regarding these weapons.
Designed for police officers, firefighters, hazmat teams, bomb squads, EMTs, emergency management, military personnel, security guards and others who may encounter or respond to incidents involving IEDs. Both pre- and post-detonation response are portrayed.

Topics covered include:
Types of explosives and precursor chemicals that are often used to construct an IED
Warning signs of the presence of a possible VBIED including new configurations based on al-Qaeda intelligence
Conducting reconnaissance, evacuation distances, and using remote robots
Establishing Unified Command
Sizing up the incident
Managing victims
Preserving evidence
Includes an accompanying resource CD-ROM with a customizable PowerPoint presentation, quiz, references and other materials that will help an Instructor present a seminar.
For international orders, please call 713-621-1100.