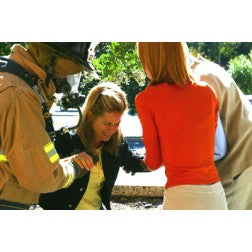 Terrorism: Radiological Weapons DVD
Terrorism: Radiological Weapons
DVD training video is part of the
WMD Response Series

.
Available separately or as a part of the package
.
This program shows a credible scenario in the use of a dirty bomb, consisting of explosives and radioactive materials.
This important DVD program uses footage of emergency responders performing actual training exercises to respond to scenarios involving radiological weapons - potentially the most fearsome weapons in the terrorism arsenal.
 Topics covered include:
The nature of radioactivity
Immediate and long-term health hazards of exposure
Response and protective actions
Search and rescue procedures
Using time, distance and shielding for protection
Exposure limits for emergency response and survival
Use of radiation alert devices
Size-up issues
Use of protective clothing and equipment
Leader's Guide included.
For international orders, please call 713-621-1100.