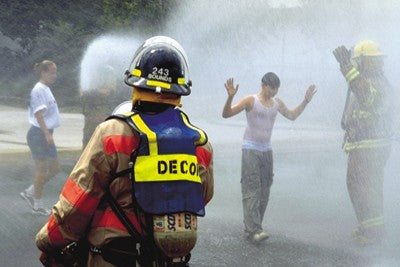 Terrorism: Chemical Weapons DVD
Terrorism: Chemical Weapons
DVD is part of the
WMD Response Series
. Know the signs of chemical terrorism and adapt hazmat protocols to meet the threat.
Available separately or as a part of the package
.
This safety video is designed to provide training and response guidelines to emergency personnel who would be called upon to respond to a terrorist incident involving chemical agents.
Topic covered include:
Profiles four chemical agent classes: lethal agents (nerve agents and blood agents); choking agents; blister agents and incapacitating agents
Toxicology and symptoms of exposure of specific agents within each class
Possible targets
Likely terrorist dissemination devices for chemical agents
Warning signs and indicators of a chemical attack
Site control
Protective clothing
Incident management
Specialized equipment and supplies.
How terrorists may weaponize chemical agents
Using hazmat response protocols
Assessing risks to responders as well as to the community
Decontamination of victims, equipment and responders
Managing casualties
Air monitoring and instruments
Also included with the package is a Resource CD-ROM, with PowerPoint presentation, post-seminar test and other instructional aids.

For international orders, please call 713-621-1100.