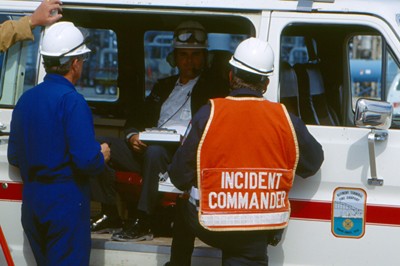 Incident Command System (ICS) DVD
ON SALE!

Incident Command System (ICS)
DVD provides video training in the Incident Command System (ICS), which is a core element of NIMS, and describes the roles and responsibilities of the key players.
Homeland Security Presidential Directive 5 (HSPD-5) calls for development of the National Incident Management System (NIMS), a consistent yet flexible nation-wide framework for managing all types of domestic incident at the local, state, and federal levels of government.  Response organizations are required to adopt NIMS in order to receive federal preparedness grants. Designed for law enforcement, firefighters, emergency managers, emergency medical personnel, government agencies, the military, security, and facility management personnel who may respond to incidents or be involved in joint response operations. 
Topics covered include:
How to manage resources from multiple agencies and jurisdictions
How all key players in a response work together effectively
A common organizational structure
Decision-making under ICS
The relationship of federal, state, and private sector officials
Unified command
Defining roles and resource channels
The role of the Incident Commander
The importance of adopting a spirit of cooperation and trust
Operations, Planning, Logistics, and Administration & Finance Section roles and responsibilities
Developing response objectives
Establishing the command post and emergency operations center(s)
Communications
Size-up issues, securing the area and control zones
Includes a Model Procedures Guide to help jurisdictions establish an ICS System
Includes Leader's Guide. 
For international orders, please call 713-621-1100.
NOTE: The price in the shopping cart reflects special offer. Regular price when discount ends is $395.00.