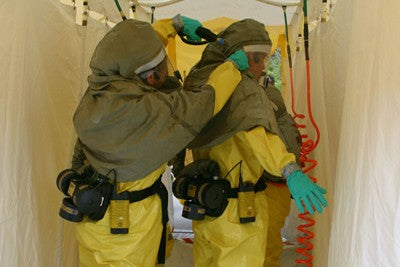 ON SALE!

Self Protection
DVD describes how to select the proper type of Personal Protective Equipment (PPE), as required by OSHA, to use during a mass casualty situation in order to protect healthcare workers from exposure to patients contaminated with infectious diseases.
This program is designed to provide training and information about the use of protective clothing and equipment to EMS and hospital staff, first receivers, hazmat teams, law enforcement, and waste management workers. It also explains the different choices in PPE and the issues involved in selecting the correct ensemble.
Topics covered include: 
How exposure occurs
Using respiratory protection
Proper donning and doffing of PPE
Standards for protective clothing
EPA levels of protection
Avoiding heat injury while using PPE
For international orders, please call 713-621-1100.



NOTE: The price in the shopping cart reflects special offer. Regular price when discount ends is $395.00.