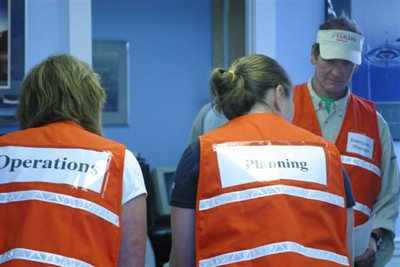 Industrial Emergency Management Package DVDs
The
Industrial Emergency Management Package
contains two training films which demonstrate how small to medium size organizations can institute an effective Emergency Operations Center.
Programs in this package include:
This program describes the function of the Emergency Operations Center and how it is staffed, organized and activated. Designed for federal, state, tribal and local emergency management personnel as well as private industry and disaster response organization personnel. It also demonstrates how the EOC supports Incident Command during a response. 
Topics covered include:
How the EOC is staffed, organized & activated
Key roles in ICS and corresponding roles for the EOC
Elements of NIMS
The five types of incidents
Readiness levels
Planning meetings
Also included is a Model Procedures Guide on CD-ROM with customizable PowerPoint presentation, post-seminar quiz, references and other documents to help present a training seminar.
Facility Emergency Management
DVD
This designed to help small and medium-sized organizations create facility action plans and institute emergency procedures and comply with FEMA's PS-Prep initiative - the Voluntary Private Sector Preparedness Accreditation and Certification Program.
Topics covered include:
Developing an emergency management structure
The role of the emergency management team
Setting up the Emergency Operations Center (EOC)
Procedures for interfacing with local and regional response personnel
Appropriate response to different levels of incidents
Mitigation and prevention
Preparedness
Response
Recovery
The Incident Command System
Included in the package is a DVD and an accompanying Resource CD-ROM, with a PowerPoint presentation focusing on the some of the national standards that were used in developing PS-Prep, as well as a post-seminar quiz and other materials that will help an Instructor present a training seminar.
The purpose of PS-Prep is to ensure that the private sector is able to prepare for and recover from major disruptive incidents, thereby promoting national resilience and security.In an organization, the Emergency Manager is responsible for protecting those within the facility, whether they are students, employees, patients, customers or visitors. Knowing what to do when faced with an emergency can mean the difference between life and death. This program will help facilities develop an emergency plan to be used at incidents of all sizes, whether inside or outside of the facility. For international orders, please call 713-621-1100.


NOTE: The price in the shopping cart reflects special offer. Regular price when discount ends is $745.00.